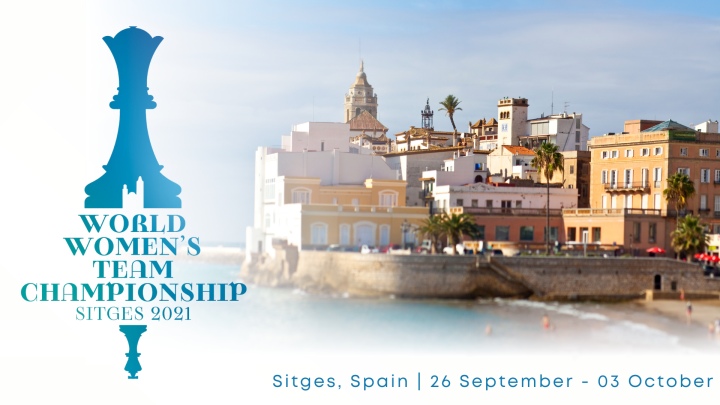 FIDE World Women's Team Championship 2021: Preview
At the end of the month, on September 26, the FIDE World Women's Team Championship 2021 starts in Sitges, the coastal town in Spain's Catalonia region famous for eight editions of a popular chess open, "Sunway Chess".
The first Women's World Team Chess Championship was held in Yekaterinburg back in 2007. This city in Central Russia, now famous for the latest Candidates tournament, was a centre of attraction for female chess players at that time as it held a series of top-class round-robin tournaments for women, called "North Urals Cup". China convincingly won that first-ever championship, crushing eventual silver-medalists Russia 4-0 in one of the early rounds. The victory in Yekaterinburg started a hat trick as the squad led by Hou Yifan claimed gold at the home championship in Ningbo-2009 and the next one in Mardin-2011. The years of Chinese domination ended with the Ukrainian team triumph in Astana-2013 and Georgian victory in Chengdu-2015. At the home championship in Khanty-Mansiysk-2017, one of the permanent favourites and medalists of all previous editions, Russia finally managed to win their first gold. At the latest Astana-2019, China reclaimed the top spot and won their fourth gold, leaving Russia second and Georgia third.
2021 marks the 8th edition of the championship, and this year it is held in a new, more spectator-friendly format. Instead of the usual round-robin, the twelve teams shall be divided into two pools of approximately the same strength. Four top teams from each pool (round-robin event of five rounds) qualify for the knockout playoff. In the knockout, each duel consist of two matches and the tie is broken by blitz matches, much like at the recently concluded Online Olympiad. The time control will be shorter than usual, too,—45 minutes for the whole game with an increment of 10 seconds per move.
The pandemic put most of the over-the-board events on hold in 2020, but luckily that was the year leapfrogged by a bi-annual schedule of the team championship, so there will be no gap in the calendar. However, not so fortunate is that the pandemic restrictions still impact our world significantly and not all the favourites will manage to take part. Most notably, we will not see China and the USA, two top teams of the Asian and American continents.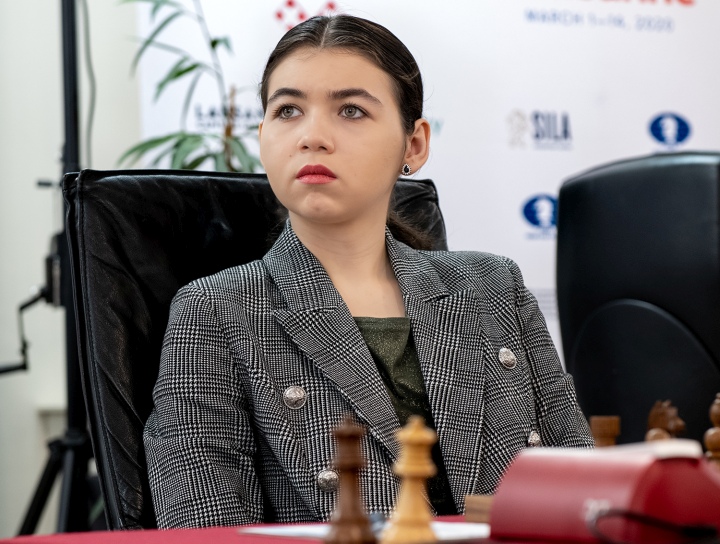 In the absence of China, CFR Team stands as a firm favourite, headed by the world's #2 Aleksandra Goryachkina (pictured above) and with an excellent lineup of Kateryna Lagno, Alexandra Kosteniuk, Polina Shuvalova, and Alina Kashlinskaya as a reserve player. This is Russia's best possible roster by standard FIDE rating, showcasing their determination to bring home another gold this autumn, following the triumphal win at the Online Olympiad.
Russia's permanent rival, Georgia, also brings the optimum lineup: Nana Dzagnidze, Nino Batsiashvili (pictured below), Bela Khotenashvili, Lela Javakhishvili, and Meri Arabidze. Curiously, when Georgia took gold in Chengdu-2015, four out of five players were the same, and the fifth one was Melia instead of Dzagnidze. Will they be able to repeat their feat six years later?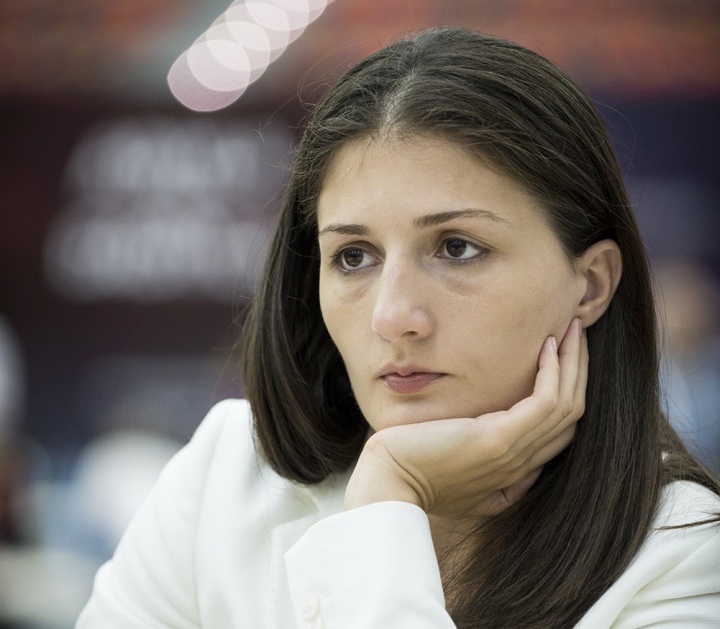 Another regular favourite, Ukraine, is nothing short of top players too. But unlike Russia or Georgia, they've got a little more creative approach to the board order, putting Iulija Osmak on a reserve board, behind slightly lower rated Nataliya Buksa. The first two boards naturally belong to powerhouses Anna and Mariya Muzychuk, and team captain Michael Brodsky chose Anna to lead the team. Third board is occupied by Anna Ushenina.
These three teams stand out rating-wise and have tremendous experience and a history of medals at the world team championships, so they will likely become top contenders for gold. Traditionally solid Armenia (led by current European Women's Champion Elina Danielian), Poland (with Zawadzka and Cyfka on top boards), Germany (headed by unchallenged leader Elisabeth Paehtz) and Azerbaijan (led by 21-year-old Gibraltar WGP discovery Gunay Mammadzada) will interfere with the medal distribution and fight for a place on a pedestal. Local heroines led by Ana Matnadze have a very balanced lineup. There is no place like home, so perhaps familiar walls will lead the Spanish team to success.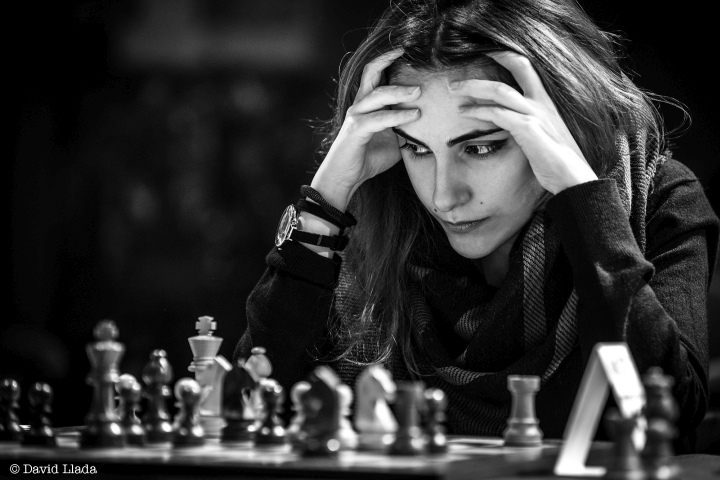 Apart from this rather usual distribution of forces, two teams this year deserve special attention – India and Kazakhstan. It has been a while since India played with their best lineup and the fans' dream was about to come true in Sitges, but unfortunately, at the last moment, Humpy Koneru was replaced by Mary Ann Gomes. Without the world's #3 female player, India's position as one of the tournament's favourites is shaken and the quest for gold becomes all the more difficult. Harika Dronavalli (pictured below) will have to put on the shoes of a team leader and inspire Vaishali R, Tania Sachdev, and Bhakti Kulkarni to their best performance. "Humpy is one of our best, but we have others who are equally capable of doing well. We are sure our team will notch up a good show in Spain", said AICF secretary, Bharat Singh Chauhan, to the Times of India that reported on the news.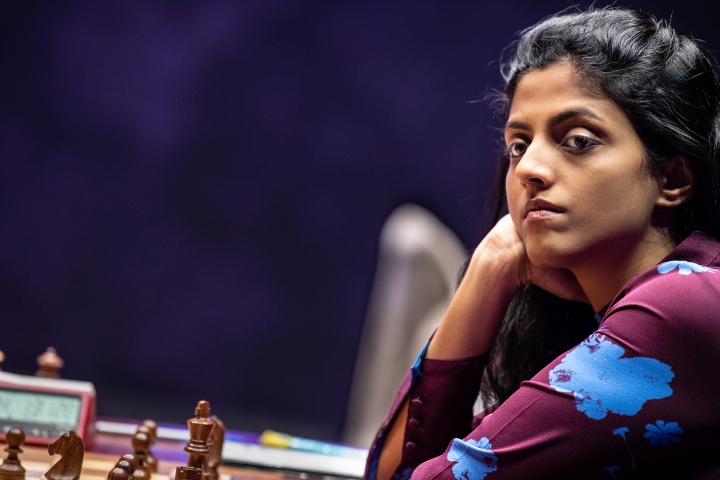 It's great to see young stars claiming their place next to the recognized masters. 20-year-old CFR's Polina Shuvalova, 20-year-old Indian Vaishali R, 21-year-old Gunay Mammadzada are here to stay. But the generational shift is especially evident with the team of Kazakhstan – an apparent underdog capable of delivering any surprises. Team leader 21-year-old Zhansaya Abdumalik (pictured below) just crushed Gibraltar WGP this summer, and the third board, 17-year-old Bibisara Assaubayeva, had a fantastic run at the Women's World Cup. Add to the mix experienced and stable Dinara Saduakassova, Gulmira Dauletova, and one more promising teenager, 16-year-old Meruert Kamalidenova, to complete the picture.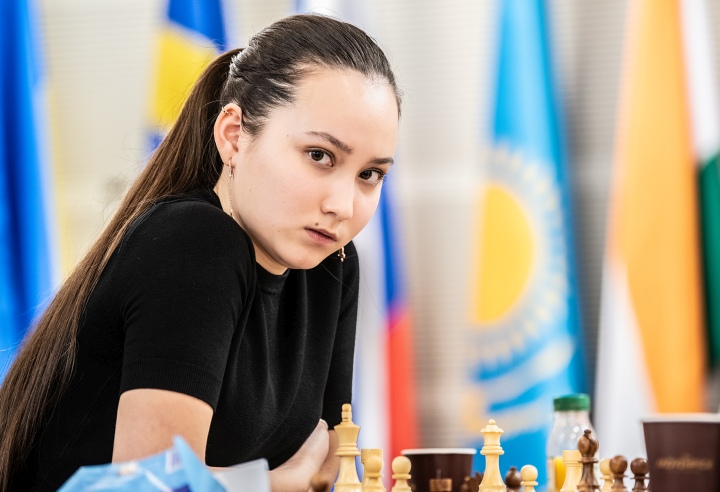 It won't be an easy walk for the teams of France and FIDE Americas, competing with such heavyweights, so advancing from the group stage could definitely be considered a success. In the absence of the USA, FIDE Americas is a mixed team with the players from the continent, nominated by the FIDE President: Deysi Cori (Peru), Carolina Lujan (Argentina), Maritza Arribas (Cuba), Maili-Jade Quellet (Canada), and Jeniffer Pérez (Paraguay). As for France, it is headed by its long-time leader Marie Sebag but missing some of the other top national players.
Check out full team lineups here.
As many as 13 out of the world's top 20 women players are taking part in this championship, and it promises to be a perfect aperitif in the line of major chess competitions this autumn, followed by the Grand Swiss and the FIDE World Championship Match.
Photo: David Llada