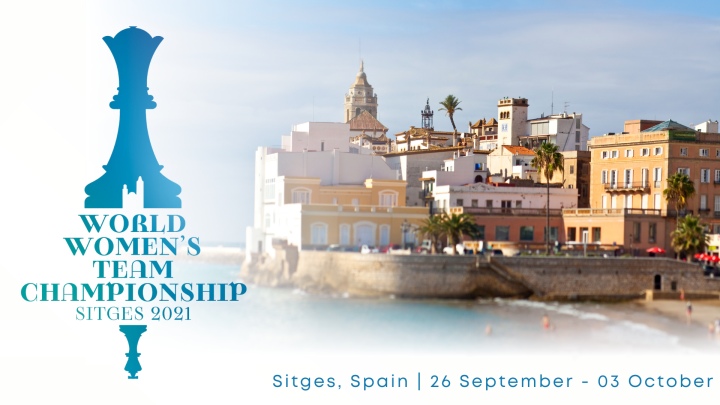 FIDE World Women's Team Championship: lineups announced
At the end of the month, on September 26, the FIDE World Women's Team Championship 2021 starts in Sitges, a coastal town in Spain's Catalonia region famous for eight editions of a popular chess open, "Sunway Chess". Now, the first time, Sitges is hosting an official FIDE event.
The 8th edition of the FIDE World Women's Team Championship will run from September 26 to October 3 in a new, more spectator-friendly format. Instead of the usual round-robin, the twelve teams will be divided into two pools of approximately equal strength. Four top teams from each pool (round-robin event of five rounds) qualify to the knockout playoff. In the knockout, each duel consists of two matches and the tie is broken by blitz matches, just like at the recent Online Olympiad. The time control will be shorter than usual, too,— 45 minutes for the whole game with an increment of 10 seconds per move starting from the first move.
Team lineups:
| | | |
| --- | --- | --- |
| | ARMENIA | |
| 1 | Elina Danielian | 2358 |
| 2 | Anna Sargsyan | 2283 |
| 3 | Lilit Mkrtchian | 2306 |
| 4 | Susanna Gaboyan | 2083 |
| 5 | Siranush Ghukasyan | 2168* |
| CAP | Zaven Andriasyan | |
| | | |
| | FRANCE | |
| 1 | Marie Sebag | 2401 |
| 2 | Natacha Benmesbah | 2193 |
| 3 | Silvia Alexieva | 2277 |
| 4 | Andrea Navrotescu | 2220 |
| 5 | Christine Flear | 2128 |
| CAP | Christine Flear | |
| | | |
| | INDIA | |
| 1 | Harika Dronavalli | 2515 |
| 2 | Vaishali R | 2393 |
| 3 | Tania Sachdev | 2392 |
| 4 | Kulkarni Bhakti | 2391 |
| 5 | Mary Ann Gomes | 2305 |
| CAP | Kunte Abhijit | |
| | | |
| | CFR TEAM | |
| 1 | Aleksandra Goryachkina | 2520 |
| 2 | Kateryna Lagno | 2521 |
| 3 | Alexandra Kosteniuk | 2517 |
| 4 | Polina Shuvalova | 2383 |
| 5 | Alina Kashlinskaya | 2367 |
| CAP | Sergei Rublevsky | |
| | | |
| --- | --- | --- |
| | AZERBAIJAN | |
| 1 | Gunay Mammadzada | 2280 |
| 2 | Gulnar Mammadova | 2406 |
| 3 | Turkan Mamedjarova | 2243 |
| 4 | Zeinab Mamedjarova | 2198 |
| 5 | Ulviyya Fataliyeva | 2310 |
| | | |
| | GEORGIA | |
| 1 | Nana Dzagnidze | 2455 |
| 2 | Nino Batsiashvili | 2371 |
| 3 | Lela Javakhishvili | 2364 |
| 4 | Meri Arabidze | 2434 |
| 5 | Salome Melia | 2271 |
| CAP | Davit Jojua | |
| | | |
| | KAZAKHSTAN | |
| 1 | Zhansaya Abdumalik | 2444 |
| 2 | Dinara Saduakassova | 2429 |
| 3 | Bibisara Assaubayeva | 2369 |
| 4 | Gulmira Dauletova | 2184 |
| 5 | Meruert Kamalidenova | 1984 |
| CAP | Pavel Kotsur | |
| | | |
| | SPAIN | |
| 1 | Ana Matnadze | 2349 |
| 2 | Sabrina Vega Gutierrez | 2214 |
| 3 | Marta Garcia Martin | 2097 |
| 4 | Monica Calzetta Ruiz | 2103 |
| 5 | Maria Eizaguerri Floris | 1811 |
| CAP | David Martinez Martin | |
| | | |
| --- | --- | --- |
| | FIDE AMERICAS | |
| 1 | Deysi Cori | 2340 |
| 2 | Carolina Luján | 2375 |
| 3 | Maritza Arribas | 2261 |
| 4 | Maili-Jade Ouellet | 2113 |
| 5 | Jeniffer Pérez | 2150 |
| CAP | Claudia Amura | |
| | | |
| | GERMANY | |
| 1 | Elisabeth Paehtz | 2371 |
| 2 | Josephine Heinemann | 2177 |
| 3 | Hanna Marie Klek | 2331* |
| 4 | Jana Schneider | 2138 |
| 5 | Melanie Lubbe | 2300* |
| | | |
| | POLAND | |
| 1 | Jolanta Zawadzka | 2403 |
| 2 | Karina Cyfka | 2417 |
| 3 | Monika Socko | 2393 |
| 4 | Klaudia Kulon | 2363 |
| 5 | Julia Antolak | 2340 |
| CAP | Marcin Dziuba | |
| | | |
| | UKRAINE | |
| 1 | Anna Muzychuk | 2537 |
| 2 | Mariya Muzychuk | 2496 |
| 3 | Anna Ushenina | 2418 |
| 4 | Nataliya Buksa | 2184 |
| 5 | Iulija Osmak | 2302 |
| CAP | Michail Brodsky | |

* – player doesn't have a rapid rating, classical one used instead